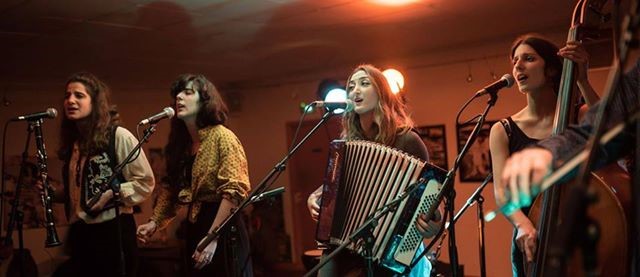 Des Balkans à l'Anatolie, du Caucase au Moyen-Orient, le collectif (ré)interprète musiques traditionnelles et joue ses propres compositions originales !
Lieu : Art Base, 29 rue des Sables Zandstraat, 1000 Bruxelles. Tél. 02 217 29 20
Date : mercredi 16 janvier à 20h, Prix: 12,50 euros (7 euros pour les étudiants, jeunes de moins de 26 ans et chercheurs d'emploi).
Réservations & infos :
https://fr-fr.facebook.com/events/357299114819050/
Collectif Medz Bazar, formed in Paris in 2012, comprises musicians belonging to Armenian, Turkish, French and American cultures. Drawing from their own and from neighboring traditions, the members of the collective create original arrangements of folk music as well as compositions of their own.
On stage, they offer a fruitful balance between tempered instruments and music from the modal traditions, between Middle-Eastern percussions and voices inspired by Asia Minor's and Iran's folk music, Caucasian Rabiz and songs of Thrace, together with Latin American music, Operette, Hip Hop, Swing and Bluegrass.
https://collectifmedzbazar.bandcamp.com/
https://youtu.be/vIOto4Xv2p0