« The Promise », le nouveau film de Terry George, le réalisateur d'« Hôtel Rwanda ».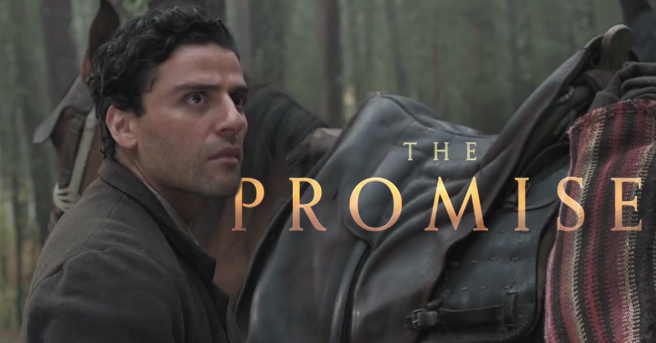 Le réalisateur irlandais réunit Christian Bale, Oscar Isaac et Charlotte Le Bon, pour un triangle amoureux à l'époque du génocide arménien. L'histoire est celle d'un étudiant en médecine arménien, d'une artiste et d'un journaliste international dont les destins se croisent. « The Promise » a été sélectionné pour le Festival de Toronto 2016 où il sera projeté en avant-première le 11 septembre.
JoBlo.com: Film. First trailer for « The Promise » tells a love story amid the Armenian Genocide.
The explanation behind the Armenian Genocide is not easy to explain, but simply put, the Ottoman Empire (what would later become Turkey) rounded up and murdered over a million Armenian men, women and children throughout the first World War. A horrific event to be sure and one which the Turkish government continues to deny. Sounds like something you'd want to frame a love triangle around doesn't it?
HOTEL RWANDA director Terry George has returned with THE PROMISE, a historical drama which follows medical student Michael Boghosian (Oscar Isaac) and American photo-journalist Chris Myers (Christian Bale) as they fight for the heart of Armenian artist Ana (Charlotte le Bon), even as the Ottoman Empire crumbles around them. Check out the recently released trailer for yourself.
A synopsis for THE PROMISE:
It is 1914. As the Great War looms, the vast Ottoman Empire is crumbling. Constantinople (Istanbul), its once vibrant, multicultural capital is about to be consumed by chaos. Michael Boghosian (Oscar Isaac), arrives in the cosmopolitan hub as a medical student determined to bring modern medicine back to Siroun, his ancestral village in Southern Turkey where Turkish Muslims and Armenian Christians have lived side by side for centuries.
Photo-journalist Chris Myers (Christian Bale), has come here only partly to cover geo-politics. He is mesmerized by his love for Ana (Charlotte le Bon), an Armenian artist he has accompanied from Paris after the sudden death of her father. When Michael meets Ana, their shared Armenian heritage sparks an attraction that explodes into a romantic rivalry between the two men even as Michael hangs on to a promise from his past. After the Turks join the war on the German side, the Empire turns violently against its own ethnic minorities. Despite their conflicts, everyone must find a way to survive — even as monumental events envelope their lives.
THE PROMISE will debut at the Toronto International Film Festival on September 11.