Asbarez.com - 11/04/2018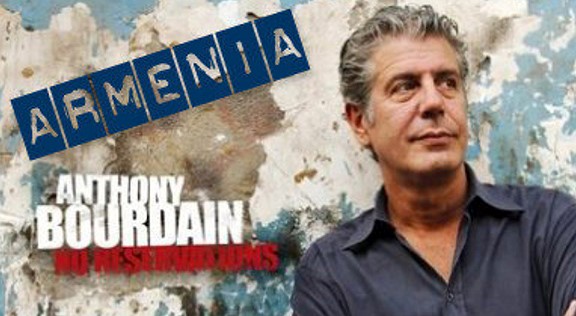 CNN announced Monday that the episode of its original series "Anthony Bourdain Parts Unknown" that was shot in Armenia and Artsakh will air on May 20 on the cable network. Bourdain traveled to Armenia in October and as a press statement from the network states, "takes a wide-angle look at the culture and history of this country."
Among other features, the episode will show Bourdain breaking bread with musician of Armenian descent Serj Tankian (System of a Down) and a restaurant in downtown Yerevan. as well as during dinners with locals, the host explores the native and Diaspora Armenian populations' survival and achievements against the odds.
Described by The New Yorker as a "swaggering chef," Bourdain has built an empire around food, which started with his New York Times best-selling book "Kitchen Confidential: Adventures in the Culinary Underbelly" (2000). Today, he is well-known as a TV personality and has starred in shows on Food Network and his Travel Channel show, "Anthony Bourdain: No Reservations," which has Bourdain traveling to unexpected locations and indulging in those regions' local culinary traditions.
When in Armenia, Bourdain posted a picture to his social media account of his cameraman, Jerry Risius, boarding a Russian helicopter, likely to make a journey to Artsakh, where he has been featured in pictures across social media.
Following his trip to Artsakh, the Azerbaijani government place Bourdain on its now infamous "black list" of people visiting Artsakh. He now joins a slew of entertainers, lawmakers, diplomats and some ordinary citizens that have been banned from Azerbaijan.