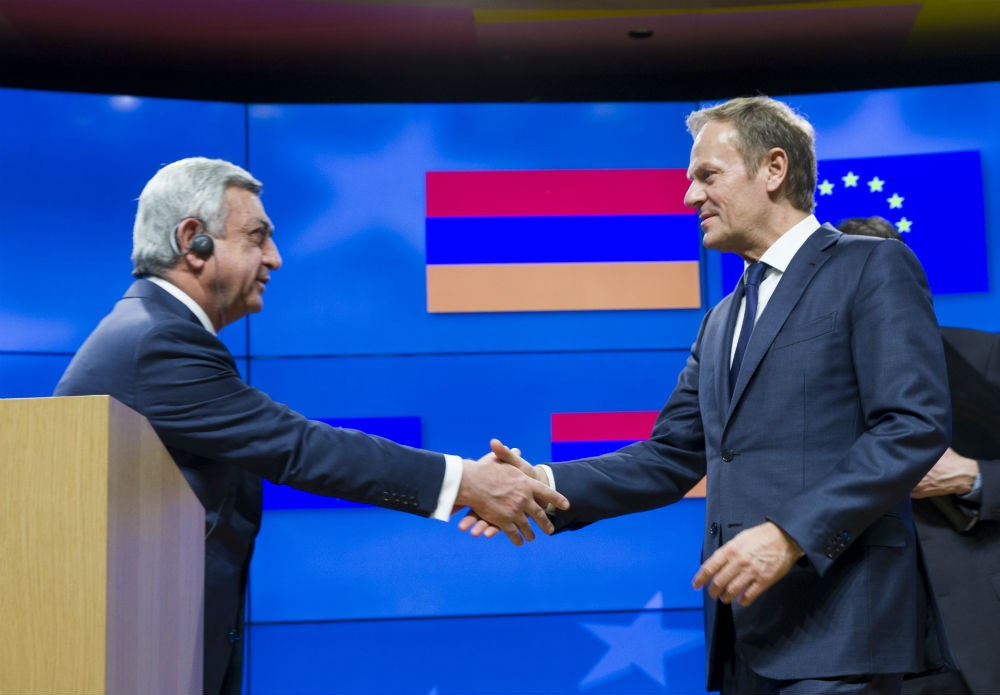 European Council – 27/02
" I am pleased to welcome President Sargsyan to Brussels today.
Armenia whose independence, sovereignty and territorial integrity we support is an important partner for the European Union. I am very pleased to announce today the conclusion of negotiations on the new EU-Armenia Comprehensive and Enhanced Partnership Agreement.
This new agreement will broaden the scope of our relations, taking into account the new global, political and economic interests we share and challenges we want to face together.
We are looking forward to stronger cooperation in sectors such as energy, transport and the environment, for new opportunities in trade and investments, and for increased mobility for the benefit of our citizens.
We have discussed today our shared values including our commitment to democracy, human rights, and the rule of law, which underpin the new agreement and our future cooperation.
The EU is already the first trade partner of Armenia, its first international donor and strongest supporter to reforms. We intend to expand these relations further in the coming years and have encouraged Armenia to continue reforms across a range of issues, including economic development, the business environment, the judiciary, human rights, the fight against corruption and measures to ensure free and fair elections.
We also discussed the peaceful resolution of the Nagorno-Karabakh conflict. The status quo is unsustainable. The conflict needs an early political settlement in accordance with international law. It does not have a military solution. The EU continues to fully support the mediation efforts and proposals of the OSCE Minsk Group Co-Chairs.
Mr President, thank you very much for coming to Brussels for your visit, for all your efforts and for our cooperation. "