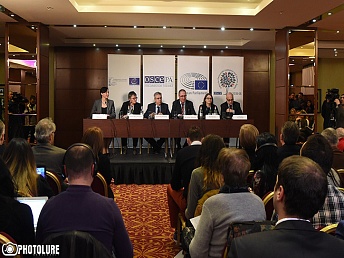 Yerevan, 03/04
This Statement of Preliminary Findings and Conclusions is the result of a common endeavour involving the OSCE Office for Democratic Institutions and Human Rights (OSCE/ODIHR), the OSCE Parliamentary Assembly (OSCE PA), the Parliamentary Assembly of Council of Europe (PACE), and the European Parliament (EP).
The 2 April parliamentary elections were well administered and fundamental freedoms were generally respected.
Despite welcomed reforms of the legal framework and the introduction of new technologies to reduce the incidents of electoral irregularities, the elections were tainted by credible information about vote-buying, and pressure on civil servants and employees of private companies. This contributed to an overall lack of public confidence and trust in the elections. Election day was generally calm and peaceful but marked by organizational problems and undue interference in the process, mostly by party representatives.
Lien vers le rapport préliminaire complet : http://www.oscepa.org/documents/all-documents/election-observation/election-observation-statements/armenia/statements-2/3511-2017-parliamentary-1/file